More than a year ago I sent my manuscript of a popular book to Wipf and Stock. A long process of copy editing, editing, and proofing finally ended with the publication of Extreme Walking: Extrabiblical Books and the Bible.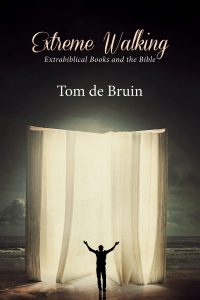 The blurb for this book reads:
Treat yourself to a bold adventure through the Bible. You will start off in familiar territory, but will soon find yourself exploring ancient texts from the time of Jesus and beyond. These new viewpoints will bring different answers than you may be used to hearing and reading. It will take courage to start such an extreme walk, but once you get out there, nothing can beat the view.

Extreme Walking is an advanced course in Bible reading. Through a series of topics that will shed new light on well-known passages in the canon, the reader is taken on an enriching voyage of discovery, where they will always remain just a step away from the safe, well-worn paths of understanding. Why does the Bible talk about "heavens" rather than "heaven"? What kind of Messiah were the Jews really expecting? Who is this Melchizedek guy? Extreme Walking will help you tackle these questions and more.
As part of the publishing process 'famous' people are asked to give an endorsementof the book. I was very excited to read Professor Jack Levison's endorsement!
"In a delightful series of walks through key New Testament themes—like heaven or Messiah or Satan—Tom de Bruin proves to be a highly informed and affable pathfinder. This book is a treasure because it offers, in a wonderful and whimsical way, insight into the New Testament by leading us back to the Jewish air the earliest Christians breathed. That air is never stuffy; it's fresh and funny and full of fascinating information—making this book perfect for any curious reader, Christian or not, who wants to know the truth about how Christianity came to be."
Get your copy here.